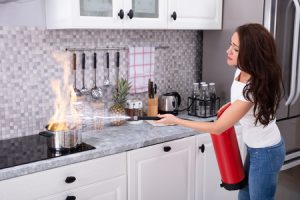 These common causes of fires can be prevented if you live carefully, but some things happen that are out of your control. We want you to know the common causes, so that you can be pro-active in preventing home fires.
List of Causes
We don't think about these causes of a house fire because they're in our everyday lives, but it's always good to be reminded of them.
Cooking Equipment – these include pots and pans overheating, toaster oven, grease fires, toaster, hotplates, turkey fryers, etc.
Heating – portable heaters can cause fires if kept plugged in for permanent use. Keep away from furniture and things that can easily ignite and cause a fire.
Smoking – this is very common. Smoking can be hazardous because cigarettes or cigars that aren't put out properly can stay lit for a few hours. Many people think it is safe to smoke outside on your deck or back yard. It is important that cigarettes are properly extinguished and not thrown on the ground or in flower pots.
Electrical – power strips, extension cords, and other things that can be plugged in can malfunction and cause a fire.
Candles – Never leave a candle unattended. Never burn a candle on or near anything that might catch fire. Keep candles out of the reach of children and pets.
Fire Investigation Experts
Fire Investigators like Agosti Fire Investigations can conduct fire scene examinations to evaluate fire loss, including detailed evidence documentation. Some causes of fires aren't common, and fire investigators will be able to uncover the true origin and cause. If you're an attorney firm, insurance company or individual looking to hire fire investigation experts, contact Agosti Fire Investigations at 847-682-6793 today for more information on how we can assist.