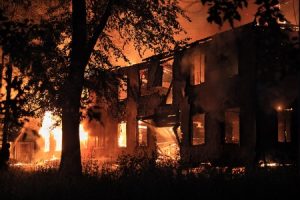 Rockford, IL has experienced a string of arsons in June and July that are still being investigated.
A serious of three fires have occurred in downtown Rockford, that are believed to be arson according to local, state, and federal investigators.
One fire occurred at an old furniture building and the two other fires occurred in a different location on South 7th Street. The three fires had similarities which led to the conclusion that they were related such as where they began in the buildings and what was use to start them.
After hours of fighting the first blaze, located in the old furniture building, the historical building was eventually demolished. The other two fires resulted in demolished buildings as well.
The buildings were demolished under "controlled demolition" which should not effect an investigation. City officials did express that they have a person of interest, but the investigations are still pending at this time.
Investigators are looking at video recordings and history of local gas purchases in hopes to narrow down their search.
Agosti & Associates can assist in both criminal and civil arson defense cases. Our fire and explosion experts are well qualified and experienced in arson related cases, etc.  Please call with any questions at (847) 682-6793.