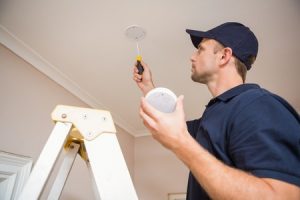 Fires present a big problem for many Americans every year. There are more than 1.3 million fires that take place all across the U.S., and they cause more than 3,000 deaths and 14,000 injuries while doing almost $11 billion in damage to homes and businesses. And yet, there are still far too many people who don't take fire safety seriously enough.
The National Fire Protection Association attempts to put fire safety on people's radars all year long but make an especially strong effort during Fire Prevention Week.
This year, Fire Prevention Week will run from October 7 through October 13, 2018. The NFPA is planning on using the week to educate people about fire prevention and fire safety. They're also encouraging home and business owners, parents, teachers, and others to review fire safety practices and share them with their kids.
Here are a few tips that you should keep in mind this Fire Prevention Week:
Create a home fire escape plan for your family.
If a fire broke out in your home today, would everyone in your family know how to evacuate your home quickly and safely? Your family should have a fire escape plan in place, and you should practice it so that your family members know it. Fire Prevention Week is a great time to start committing your plan to memory.
Check to see if your smoke detectors are working properly.
Get into the habit of testing the smoke detectors if your home at least once every six months. Use Fire Prevention Week as a reminder that it's time to check your smoke detectors every fall.
Cook with extreme caution at all times.
A lot of fires start in American homes because people forget to turn off a burner on the stove or leave something cooking unattended. You should never do this. Practice proper fire safety in the kitchen to stop fires from starting and burning out of control.
At John Michael Agosti and Associates, we want to use Fire Prevention Week as a reminder of the dangers of fires. Agosti & Associates fire and arson investigators have the experience and education necessary to consult in any fire related area.  Call us at 847-682-6793 for more information on our fire and arson investigative services.