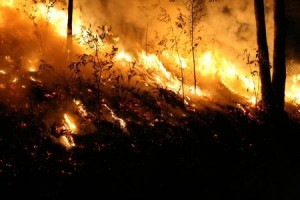 In previous blog posts, we have discussed the problem of wildfires out west. The problem will not go away overnight so it's best for us all if we know everything about wildfires – we must absorb any information that is out there. This isn't preventable; wildfires are, however, maintainable. Exactly how bad is this wildfire situation? In Arizona alone, the state is seeing more large wildfires since the 1970s, according to Tucson News Now.
Erin Jordan writes, "In Arizona, the number of wildfires has seen a general upward trend since the 1970s. This may be linked to the warmer average seasonal temperatures associated with climate change. Combining those warmer temperatures with the current drought conditions in the western U.S. raises the wildfire threat. But the 1970s was also when the U.S. Forest Service changed the policy from aggressively fighting each fire to letting some wildfires burn as long a structures and lives were not impacted."
Wildfires are on the way up; the statistics back up that claim. While some days are better than others are, there is no doubt that wildfires are more frequent and stronger. In 2011, one of the biggest wildfires in Arizona occurred, burning more than 530,000 acres. That, to be expected, has left a bad taste in everyone's mouth.