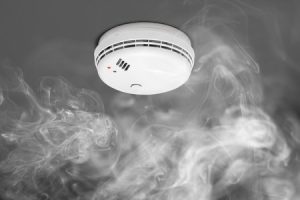 Some of the most important things located inside of your home are the smoke alarms that you have installed.
In the event of a fire, smoke alarms will alert you to the presence of a fire, notifying people to evacuate a home or a building as quickly as possible.
Before installing smoke alarms, the National Fire Protection Association recommends that you take a look at them and make sure they have "the label of a recognized testing laboratory" on them. You should also make sure they have fresh batteries in them. Smoke alarms should be installed inside of each room in your home, including bedrooms, living rooms and dens, and in hallways near stairs. They should be placed far from cooking appliances to prevent false alarms, and they should be mounted high up on walls or on ceilings where they will detect smoke. And you should never paint a fire alarm or place it near a window or exterior door where a draft could prevent it from working properly. If possible, you should also interconnect smoke alarms so that they all work together.
After you have installed your smoke alarms, you should get into the habit of maintaining them regularly. At least once every month, the NFPA recommends pressing the test button on them to make sure they're working. They also recommend changing the batteries in your smoke alarms at least once every year, if not sooner. Follow the manufacturer's instructions when putting a new battery into your smoke alarms, and replace your smoke alarms about once every 10 years. The goal should always be to make sure your smoke alarms will sound and alert you if a fire ever starts in your home.
At John Michael Agosti and Associates, we take fire safety very seriously, and we make it our mission to investigate fires to the fullest to make sure that any fire-related injuries weren't the direct result of a faulty smoke alarm. To obtain our fire investigation services, call us at 847-682-6793 today.