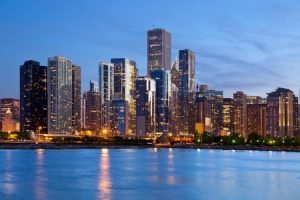 Even 147 years later, historians have yet to determine whether or not the Great Chicago Fire of 1871 was set intentionally, or by accident. Whatever the cause, it was detrimental.
The Great Chicago consumed an entire American city is a famous example of what can happen when a fire gets out of control.
The story starts on the night of October 8th, 1871, when a small fire breaks out close to a barn in the southwest corner of town. Some people say that a cow had knocked over a lantern, but the barn's owners, the O'Learys, denied the charge, leaving the culprit still unknown to this day. Regardless, a mixture of dry weather, wooden buildings, and sidewalks allows the fire to quickly spread to the north, and east, with the city center in its sights.
Soon enough, the city's business district was consumed in flames. The fire lasts until October 10th, when firefighters are finally able to get it under control with the help of the rainfall. When all is said and done, the fire leaves 300 people dead, and 100,000 residents without a home. The flames wreck 117,000 structures, and the city sees some $200 million in damages.
However, the Great Chicago Fire of 1871's aftermath led to an age of great economic development, and population boom for the Windy City. The next mayor was elected on a platform of safer building codes, and today, the city's fire department houses its training academy on the exact site where the O'Leary's cow knocked over a lantern (or who knows—maybe not).
At John Michael Agosti and Associates, we reflect on these historical stories because they give us the drive to do what we do best: conduct and consult on experienced fire investigations, and offer expert testimony in any court case involving a suspicious fire. Contact us today for our fire and arson expertise!