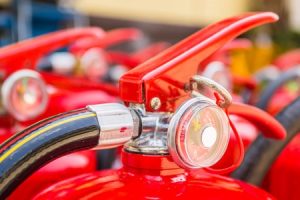 Fire extinguishers are one of the most important supplies every residential and commercial tenant or homeowner should have available. But what happens when a fire extinguisher not only doesn't work in times of need, but also, can harm you in the process?
It is incredibly important to check the make and model of your fire extinguisher to ensure that it hasn't been recalled.
According to the Consumer Product Safety Commission, the latest fire extinguisher that has been recalled is the Kidde fire extinguisher with plastic handles, or push-button Pindicators. There are nearly 40 million of these products nationwide that were sold at major hardware stores.
These fire extinguishers get clogged or take an extra push to discharge and they can fail to work when activated.
The company's fire extinguishers were previously recalled in March of 2009, and February of 2015. This specific recall includes fire extinguishers made as far back as 1973. For the exact models that are being affected—and how to find out which one you own—check out the CPSC's notice here.
But if you suspect you might have a recalled fire extinguisher in your home, act quickly to ensure your home is safe. Follow the directions on the Consumer Product Safety Commission site regarding the recall. The remedy suggested is immediate replacement; you'll also be able to receive a free fire extinguisher from Kidde, if you call.
John Michael Agosti and Associates specializes in investigating fires of all types. To inquire about their investigative services they can be contacted at 847-682-6793 today or click on our website to learn more about our services.