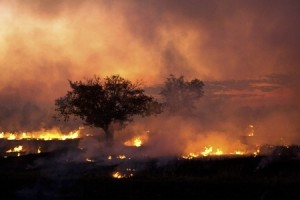 Successfully fighting fires is complicated and involves lots of moving parts. There is more to it than simply hosing it down with a firehose. While the firefighters in America are brave and courageous souls, they sometimes need help when battling fires. It's a rough world out there and anything we can do to help firefighters is a good thing. Thankfully, many innovators are coming up with technologies that are making it easier for firefighters – well, not easier per se, but rather these technologies are better preparing firefighters in the event of fires, especially wildfires – just like a weather machine featured in this KTVB article.
Dean Johnson writes, "When it comes to fighting fires, knowing the weather is one of the most important tools a firefighter can have. However, the weather can change quickly, creating prime conditions for wildfires, ultimately putting lives in danger. The National Interagency Fire Center is dispatching a new tool to help firefighters get real-time updates of incoming weather. The Remote Automated Weather Station, or RAWS, provides firefighters with weather updates every fifteen minutes."
Wildfires are more unpredictable than regular fires and change strength depending on the weather at a moment's notice, threatening to take firefighters by surprise. This device will be positioned away from wildfires and keep tabs on the winds before they hit. If the winds are poised to affect a specific wildfire, the firefighters will be alerted regarding the change and better prepared. Since everyone has smartphones nowadays, including firefighters, they can get minute-by-minute updates by linking up with the machine on their phones.
At John Michael Agosti & Associates, we hope this technology helps to save lives. We provide consulting and expert witness services in the areas of Fire/Explosion Investigations; Fire and Building Codes; and Fire Department Operations and Procedures.