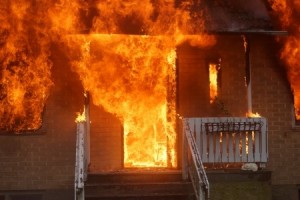 At 5:45am last Wednesday, a 911 call went through claiming that there was an explosion and a fire in Avila, an exclusive residential resort in Tampa, Florida. Four bodies were discovered in the house – two adults and two teenagers.
Due to the nature of crimes of arson, identifying circumstances surrounding homicide and suicide takes more time than in similar crimes where evidence is not destroyed. Over the past several days, authorities have been able to gather some of the facts about this incident.
While it cannot be confirmed that the bodies belong to the family that was leasing the ruined house, vigils have already been held for the two teenagers of the Campbell family – Colin, 19, and Megan, 16. It has also been confirmed that all four Campbells suffered gunshot wounds prior to the house fire.
A gun owned by the father, Darrin Campbell, was discovered on the scene. It has also been confirmed that Darrin made a $650 purchase on fireworks the day before the tragic incident. The remnants of those fireworks were found inside the Avila mansion.
From an arson standpoint, the fireworks would not have made any more impact on the house fire than a match and accelerant, due to the type of firework and the sheer size of the building – 5,000 square feet.
Surviving family members and community members are devastated. The homeowner – ex Tennis player, James Blake – has yet to comment. Blake had leased the home to the Campbells six months ago with a two-year contract.
For any arson-related crimes, contact John Michael Agosti & Associates. We're the experts and we want to help, today.
–John
Source: http://www.buzzfeed.com/austinhunt/four-killed-in-fire-intentionally-set-at-ex-tennis-star-jame