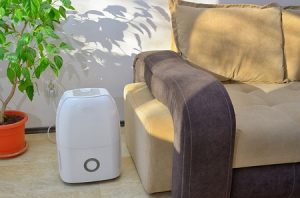 If your house gets humid once the spring and summer roll around, you've probably gotten into the habit of using a dehumidifier to take care of it. Dehumidifiers can be especially helpful for those who have basements that get especially humid and wet once it gets hot outside.
If you are planning to use a dehumidifier this summer, don't forget to check the make and model to make sure that you aren't using a device that was potentially recalled.
Back in 2013, Gree Electric Appliances announced a recall on a number of their dehumidifiers after discovering that they had been directly linked to more than 400 fires across the country. Those fires resulted in almost $20 million worth of property damage and put a lot of lives at risk.
Gree and the Consumer Product Safety Commission re-announced their recall a few years later just to make sure consumers knew about it. But just in case you didn't hear about it yet, we are sharing the news again. Take a look at your dehumidifier to see if it was included in the recall, which included about 2.5 million dehumidifiers total.
The recall was for 20, 25, 30, 40, 45, 50, 65, and 70-pint dehumidifiers manufactured by Gree under the brand names Danby, De'Longhi, Fedders, Fellini, Frigidaire, GE, Gree, Kenmore, Norpole, Premiere, Seabreeze, Soleus Air, and SuperClima. Most of the devices were sold between early 2005 and summer 2013 at stores like Lowe's, Home Depot, Kmart, Sam's Club, and more. Gree set up a special website to allow people to check to see if their dehumidifier had been recalled.
If you suspect you might have a recalled dehumidifier in your home, act quickly to ensure your home is safe. Follow the directions on the Consumer Product Safety Commission site regarding the recall.
John Michael Agosti and Associates has investigated numerous fires where dehumidifiers were suspected or located in the area of fire origin. Many of the recalled dehumidifiers are still in use by consumers and could cause a problem for those households.
John Michael Agosti and Associates specializes in investigating fires of all types. To inquire about their investigative services they can be contacted at 847-682-6793 today or click on our website to learn more about our services.